29-10-2019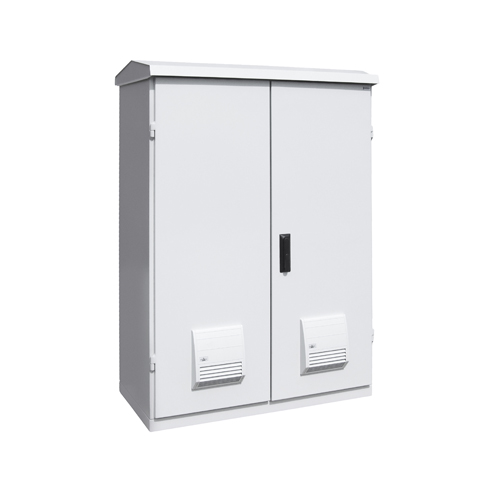 Durable and safe metal control cabinets
Control cabinets have a wide scope of applications and constitute a fundamental element of automation, electric engineering and power energy systems. They ensure adequate protection for sensitive components from weather conditions, contamination, and unauthorized access, and, at the same time, facilitate fully safe working conditions.
Material
On the market, there are cabinets made of plastic or metal. The first ones can be made of polycarbonate, ABS, or polyester and they are available in all small-format versions. This is mainly due to slightly lower resistance parameters of plastic. Metal control cabinets turn out to be a considerably better choice not only thanks to more favorable performance parameters. In the recent years, there has been a growing concern for all kinds of plastic waste which is left behind not only on landfills, but also in the forests and oceans. It is becoming a serious problem for the natural environment and health. Metal can be recycled easily. Additionally, metal cabinets are more durable, resistant to mechanical damage as well as negative effects of contamination, humidity, and high temperatures.
Metal control cabinets – classification
Having selected an adequate metal cabinet, the kind of metal used should be also noted. This matters particularly in the context of corrosivity and weight. Metal structure effectively protects even the most sensitive elements from the area of industrial automation, power energy, electronics, or electric engineering. At the same time, it ensures an easy access for the authorized persons, because the cabinets are fitted with doors with locks.
The offer includes universal single cabinets which are effective in ventilation systems, IT infrastructure, and home automation. Industrial companies prefer module models which offer better utility values. Switching and power and control cabinets are also available.
• Control cabinet made of sheet steel
Sheet steel has a corrosivity class C2, so cabinets of this kind can be used in unheated buildings, such as warehouses or sports halls. Outdoors they can be used only in zones with low contamination, e.g. rural areas.
• Control cabinet made of galvanized steel
This option offers a higher degree of protection, because the application on the zinc coating protects the cabinet against corrosion. The zinc coating does not require any maintenance. Galvanized steel cabinets are effective in production areas with high humidity, and outdoors they can be used in urban industrial zones with a medium degree of contamination with sulfur oxide.
• Control cabinet made of aluminum sheet
Aluminum has good resistance to corrosion, because the surface is covered with a protective layer of aluminum oxide which protects the cabinet from deep corrosion caused by humidity. It is also inert to the majority of chemical agents and, at the same time, it is non-toxic. Good thermal conductivity is its additional plus. The principal advantage of aluminum cabinets is their reduced weight, as aluminum is considerably lighter than stainless steel.
Control cabinet made of stainless steel
Cabinets made of this material have a corrosivity class C4, which translates into good resistance to water and chemical corrosivity and, at the same time, offers a possibility of application both inside and outside industrial zones, as well as chemical plants or ship repair yards. Stainless steel contains at least 11 % of chrome and thanks to that it can automatically generate a surface layer which prevents corrosion.
• Control cabinet made of acid-proof stainless steel
Cabinets made of acid-proof stainless steel with a corrosivity class C5 are incredibly effective in extremely aggressive environments with high humidity, constant condensation, and high level of contamination. Acid-proof stainless steel not only contains more chrome than stainless steel but it also has an admixture of titan, manganese, and copper, which additionally increases its resistance. It is resistant to the effects of acids weaker than sulfuric acid.
IP (Index of Protection) rating of control cabinets
The purchase of control cabinets entails a detailed verification of conditions in which they will be utilized. This is the only way to choose a product with an IP rating which would ensure safe use of the device which is to be protected by the cabinet. High IP rating is recommended and the best metal control cabinets have an IP rating of 55 or 66.
IP 55 means that the control cabinet is highly resistant to dust and water streams from all directions; however, it does not eliminate the ingress of dust entirely. Those parameters are already quite good and they guarantee a safe operation of the device, but sometimes there is a need for a cabinet which can provide a better level of protection. Control cabinets with IP 66 are dustproof and they prevent the ingress of dust even in vacuum pressure of 20 mbar. They also protect from heavy water streams from all directions.
Mechanical endurance
When selecting a control cabinet, apart from IP rating and corrosivity, mechanical endurance IK and relevant certificates confirming its conformity with the applicable standards and high product quality should also be taken into account. Metal control cabinets boast excellent parameters in the area of endurance and durability, because they have the highest IK classification level 10 which means they are resistant to impact with a 5 kg hammer from the altitude of 40 cm, i.e. the energy of 20 J. Thanks to this, metal cabinets are incredibly functional and effective even in the toughest conditions.