08-11-2019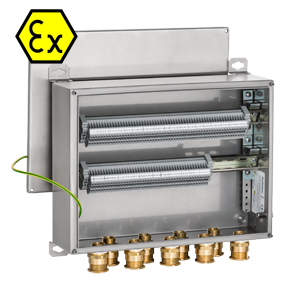 ELECTROTECHNICAL EQUIPMENT IN EXPLOSION HAZARD ZONES
In some industrial environments an explosive atmosphere may occur being a mixture of flammable substances that under specific atmospheric conditions and upon initiation of ignition may cause an explosion. This may in turn be dangerous for people and approximate devices. Therefore, in explosion hazard zones, it is necessary to apply special solutions that provide safe work. What's important is not only the installation itself but also the selection and application of devices. That is why it is extremely important to use only the products from proven suppliers.
ATEX Directive
Regulations concerning safety of work and devices applied in the explosion hazard zones have been inconsistent for many years. At the moment, guidelines are given in the Directive ATEX 2014/34/EU, i.e. the Union legal act that is to control the European market. The Directive provides the grounds for free flow of specified groups of products between the countries belonging to the European Union – these will only be the devices designed and built according to ATEX. When selecting the devices from proven manufacturers, you are sure that they are built according to these criteria; this will be supported by a CE declaration of conformity or a document commonly called ATEX certificate.
Zoning
According to the ATEX Directive, the devices designed to work in the explosion hazard zone require proper designation. They can be divided to two main groups – the first one includes equipment for the mining plants where the pulverized coal and methane explosion hazard exists. The second group includes devices that can be applied within all remaining explosion hazard zones. Moreover, individual categories that designate devices safety level may be distinguished. In case of the first group, this will be category M1 and M2, and in the second one – category 1 of very high level of safety, through the category 2 up to 3 that includes devices of normal level of safety under normal operating conditions, i.e. where the explosion atmosphere is not likely to exist. In order to assign the categories to the devices correctly, it is necessary to distinguish hazard explosion zones. Zone 0 is the space where the explosive atmosphere is maintained permanently, for long period of time or frequently. Within the Zone 1, the explosive atmosphere may be infrequently present during normal operation, and the Zone 2 is the space where the explosive atmosphere is rarely present, and when it occurs, it is preserved for a very short period of time.
Electrical equipment within the explosion hazard zones
At each location where there is at least the slightest chance of explosive atmosphere presence, it is necessary to use devices and subassemblies satisfying all safety standards. The category of the electrical equipment designed for explosion hazard zones includes very wide spectrum of products which due to their specificity are frequently used in chemical sector or corn processing companies. The most commonly used ATEX certified devices and subassemblies include special heaters, thermostats, separators or signal repeaters as well as safety relays or switchgears.
Control cabinets
The control instrumentation must be located in a special cabinet that allows for proper installation of electrical devices differentiated from the standpoint of functions and electrical parameters. Transparency of installation helps in using the equipment according to its purpose and ensures safe work environment. It is important that the control cabinets are equipped with proper enclosure. It must satisfy a series of rigorous requirements. Usually, within explosion hazard zones, metal enclosures of stainless steel are used equipped with silicone gaskets showing resistance to both low and high temperatures. The enclosures can also be equipped with busbars, terminal blocks, installation panels and other Ex equipment. Usually, convection heaters designed for operation under explosion hazard conditions complement the system. This device precludes formation of condensate as well as changes of temperature or freezing.
Enclosures and switchgears
Within explosion hazard zones, fireproof cased switchgears are installed that should satisfy stringent requirements of the ATEX directive. Normally, they are module based in order to combine them using fireproof passages in order to create large distribution system. In order for the equipment to serve its function, it should not only be in conformity with the legal requirement but also be light-weight and show excellent robustness in order to increase the comfort of operation. The modular instrumentation may frequently be operated without opening the whole enclosure which fact facilitates maintenance and repair works.