01-12-2020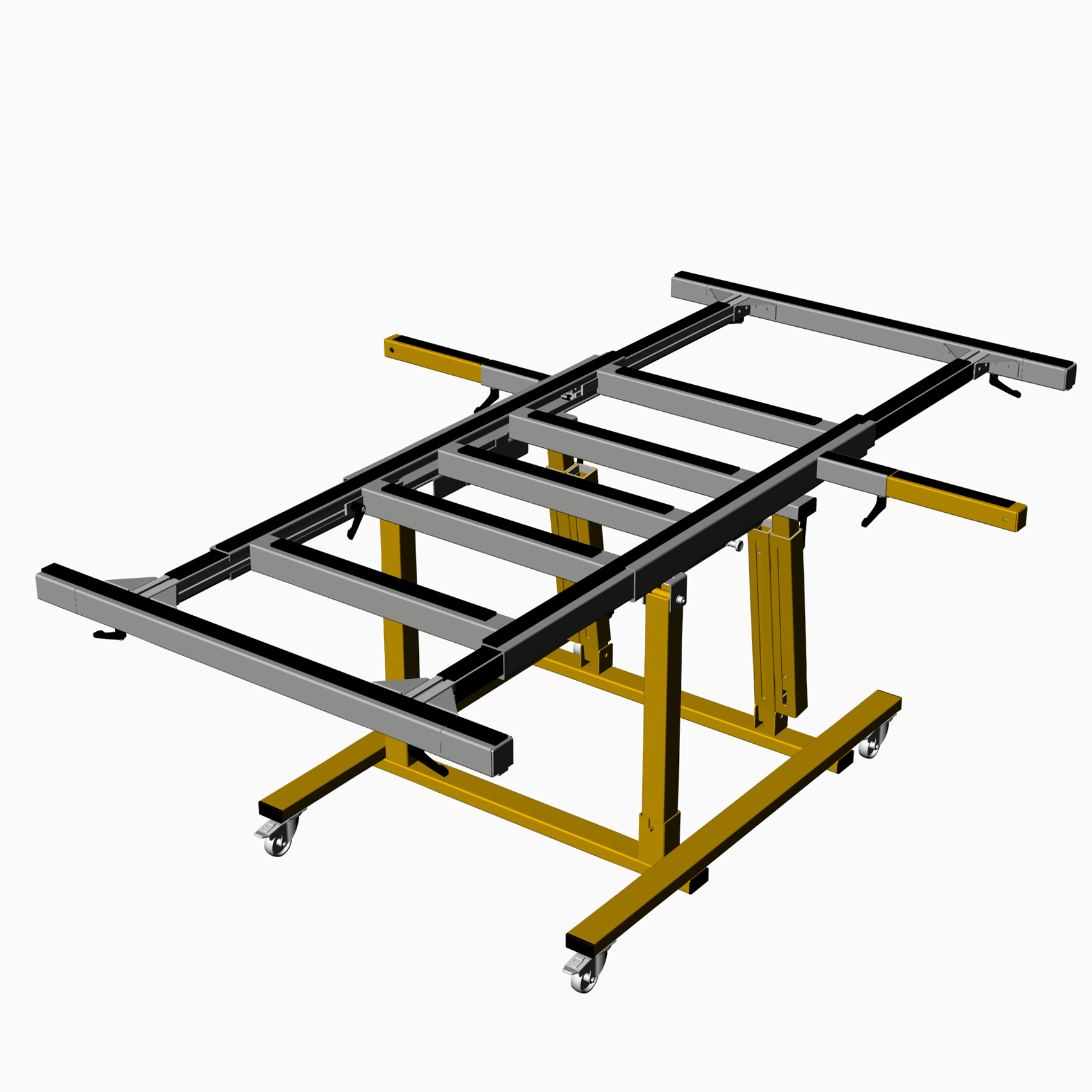 Ergonomics of electrician's work
Electrician's work is a big challenge. Everyday he or she interact with electrical installations and current. This requires focus and attention as well as constant observance of the safety standards. Therefore, it is necessary to provide the best working conditions as well as ergonomic equipment and tools. How to rise to a challenge like this? Through selection of proper installation benches and racks.
What does ergonomic tool mean?
All ergonomic installation racks and benches for electricians are those that satisfy the conditions providing comfortable work adapted to psychophysical and anatomic conditions of human. The main purpose of implementing such tools are as follows:
– increase of working comfort of each electrician,
– care for his / her health and well being,
– constant focus and alertness,
– eliminate situations that might lead to hazardous event or accident at work,
– increase of employee output,
– separation of space for dedicated tasks,
– guarantee of easy and fast access to all tools necessary for the work,
– access to difficult places of an installation, e.g. during works related to electrical switching stations.
Ergonomic tools are practical because they positively affect safety, comfort of employee and effectiveness of work.
Installation racks for electricians – what are they?
Installation rack is designed bearing in mind not one electrician but the whole team working on the installation. They can be accessed from four sides. When it comes to an ergonomic aspect, they are an exemplary tool that perfectly matches these standards. Meaning, all tools are at hand – the rack can comprise many boxes so that all equipment is at hand. The height of two meters ensures easy access to installations located really hight. Moreover, the rack is easy to use due to castors allowing for its movement. They can be locked during work in order to provide safety for the electricians and rack stability. This type of an installation rack can be used by electricians who assemble switching stations but also by persons working in different sectors of the industry. The rack can easily substitute ladders and provide working conditions for a few persons at the same time. Therefore the work is not only more ergonomic but also more efficient.
Installation benches for electricians – what are they?
Electrician's work is very requiring not only due to the necessary knowledge, but also accuracy. Such person should work under conditions ensuring the best results of work. In this case, installation benches for electricians can be useful. They are adapted to work under significant loads. Even though, they are light-weight and easy to move. They weigh about 50 kg (depending on the type). Moreover, they are equipped with castors to transport the bench, which can be blocked during work. When discussing the ergonomic functions, one must remember about the option to tilt the bench during work. The installation benches characterize with angular adjustment of the frame within 0 to 65 degrees. Installation panel fixed using thrust fittings and holders is installed to the adjusted frame. All these conditions, without a doubt, make that the work can be performed accurately and carefully. Electrician does not have to stay in uncomfortable position for a long time. The bench adapts to his or her needs and anatomic capabilities.
Why is it worth to invest in ergonomic tools?
Many employees and investors may think is the ergonomics really so important. After all, it is just closer placed box, mobility of the bench and adjustment options. These are small things that make the work easier. Benefits from implementing ergonomic solutions:
– Increase of work efficiency – when an employee has every thing at his or her hand the conditions are beneficial, work is performed faster therefore the overall efficiency is increased.
– Reduction of a mistake risk – the more an employee is distracted and must reach for tools or he / she is uncomfortable, the more mistakes he or she makes. This is related to costly mistakes and careful control.
– Care for an employee – employee is more committed to the company that provides him / her with good working conditions, not only financial but also during the work.
– Savings – they inseparably relate to all the aforementioned benefits such as increase of efficiency, elimination of mistakes and care for an employee (no costs related to introduction of another persons).
– Better company's image – you can brag about good equipment before your clients. This means that you care for the products and services you provide and for comfort of your employees.